MISSION STATEMENT
CIDEC's mission is to fulfill their customers' needs in design, sales, installation, service, and supplies; and in doing so, exceed their expectations for service, quality, and value. CIDEC strives to earn their customers' loyalty by being honest and fair while providing exceptional personalized service.
OUR HISTORY
Our humble roots began in 1996 with two individuals, Nelson Irwin and Chris Cherry, and a group of dairies that supported the endeavor to build a special kind of service business. CIDEC quickly grew by gaining favor with an intense customer focus. CIDEC launched into customizing solutions for the dairies by solving problems major suppliers couldn't. CIDEC brought Programmable Logic Controllers (PLCs) and Variable Frequency Drives (VFDs) to dairies in the time when they were unheard of on farms. CIDEC has maintained commitment to providing quality milk through superior hygiene and sanitation products in combination with customer training. In 2007, Nelson Irwin retired and a closer bond to the customer was formed when The Cherrys and Cayuga Marketing, LLC formed CIDEC, LLC. A truly customer focused business, CIDEC has a… Committed Interest in Dairy Equipment Customers.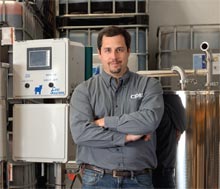 Chris Cherry
Chris Cherry is the CEO and Engineer of CIDEC. He is a graduate of Cornell University, where he received a B.S. degree in Agricultural and Biological Engineering. After graduation he worked on a local dairy farm until he co-founded CIDEC in 1996. His passion is automation controls, employee training, and customer satisfaction with high quality milking systems. Chris also serves on the New York State Farm Methods Committee of the New York State Association for Food Protection. Chris resides in Auburn with his wife and three children and enjoys spending time playing volleyball, coaching flag football, and hunting.
Chris Cherry's photo courtesy of Tompkins Financial.